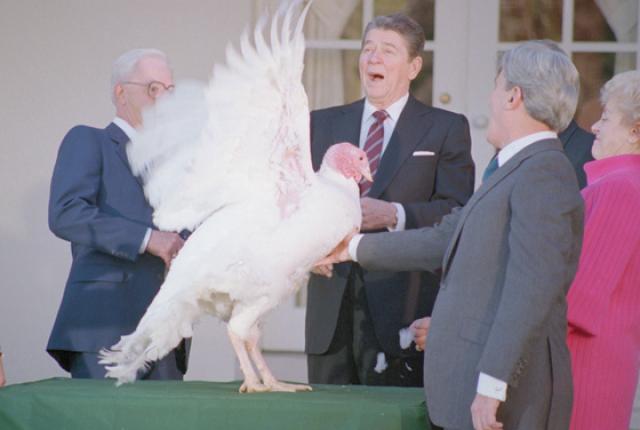 "Rejoice always, pray without ceasing, in everything give thanks; for this is the will of God in Christ Jesus for you." – 1 Thessalonians 5:16-18
Thanksgiving is right around the corner. In a couple days, your extended family will descend upon your home – or you'll descend upon theirs – and the 2013 Holiday Season will officially be under way. As with any major holiday, it's useful to take a step back and think about how Thanksgiving originated, as well as what this holiday is really all about.
Of course we all know the story of the Pilgrims. The Thanksgiving holiday can be traced to a festival of thanksgiving that lasted several days in Plymouth, MA, in the year 1621. The Pilgrims, who had just moved to the country in 1620, had a good harvest and wanted to honor God for it. They had a habit of fasting as they were waiting for God to bless them, and feasting once the blessing materialized. Thanksgiving was the natural conclusion to a harvest marked by divine providence.
The real meaning of the holiday is decidedly Christian. Thanksgiving is a day created to give thanks for all the blessings bestowed upon us over the past year. We aren't meant to give thanks to just anyone, and we aren't meant to just think about how thankful we are; we're supposed to pray. We're supposed to gather together with our loved ones and offer praise and give thanks to God for all the ways in which He has abundantly blessed us.
The United States is now a largely secular nation, and most of our major holidays have lost all reference to God and Jesus Christ in favor of turkeys, Easter bunnies and Santa Claus. However, the United States was once a religious nation. President George Washington proclaimed the first nationwide Thanksgiving on October 3, 1789. The full text of the proclamation is really quite stunning, especially in contrast with modern Presidential speeches (full text available here: http://herit.ag/1crAzfu). President Washington stated that he gave the declaration because Congress had asked him "…to recommend to the people of the United States a day of public thanksgiving and prayer, to be observed by acknowledging with grateful hearts the many and signal favors of Almighty God." The President and the entire government at the time knew that the young nation was enjoying incredible favor and prosperity, and that we had God to thank for it – publicly!
This Thanksgiving, as has become tradition, the current United States President will pardon a turkey, releasing it to live and roam freely in retirement for the rest of its life. My family and I will be thanking and praising God for everything He has done in our lives. We will also be praying that our nation once again makes the choice to collectively honor God for all the blessings He has poured out on us. Enjoy your turkey!
"Go your way, eat the fat, drink the sweet, and send portions to those for whom nothing is prepared; for this day is holy to our Lord. Do not sorrow, for the joy of the Lord is your strength." – Nehemiah 8:10
-by Pastor Mike White